LITTLE BOY (Stoner-pop / Desert-rock - Lille)
Little Boy, it's a raw and direct music, with hypnotic structures, simple and repetitive, in the great tradition of desert-rock bands (QOTSA, Masters of Reality, Them Crooked Vultures...). It's also made of haunting pop melodies. Voices are warm and psychedelic, which gives a color undoubtedly hot and sexy. A tasty mix ...!

BIOGRAPHIE :

Little Boy gave more than a hundred concerts in northern France, belgium and England and met a great success. The band recorded its first EP (Never Say Die - 4 tracks) in October 2007. In 2009 they joined the label RKO Records with whom they co-produced their first album (Into the waste & howling wilderness - 9 tracks, 2011). They are currently working on their next EP, 'Basement 9', which will include, among others, two songs you can already listen to on that website, Siderophonic and Two Bottles.

Yacek : Drums, percussions, choirs.
Boadeg : Bass guitar.
Luis :Guitar, lapsteel guitar, choirs
Boris : Guitar, vocals, charango, banjo, percussions, electric organ.

DISCOGRAPHY :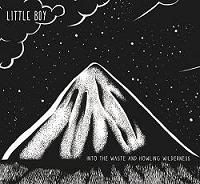 Little Boy's first album available right now !
Into the waste & howling wilderness (Little Boy / RKO Records, 2011)


- Free hearing :
SoundCloud
.
- Download :
BandCamp
.
- Sold online :
RKO Records
.
- Sold in stores : Cultura, Furets du Nord, media centers, MinorPlace Records, etc.
All songs written by Little Boy. Recorded, mixed and mastered by Little Boy.
Produced by Little Boy & RKO Records (Digisleeve 3 parts, 1000 ex. All rights reserved).
CONTACTS & LINKS:
Little Boy is on
MySpace
.
Little Boy is on
FaceBook
.
Little Boy is on
YouTube
Booking :
Mail :
thelittleboyband@gmail.com
Tel. (+0033)6.15.92.03.80
Maison de la Jeunesse et de la Culture de Croix
93, Avenue Jean Jaurès. 59170 Croix. FRANCE.